Kate sets the wedding agenda
The royal wedding influence will be felt for years to come!
I was astonished to learn that within hours of the wedding taking place designers across the globe had managed to recreate Kate's incredible McQueen dress to go on sale. The real gown had taken 20 dressmakers a month to create and probably cost around a quarter of a million pounds! So yes it is unlikely that anyone would have the chance to have an exact replica but I bet the style will be copied by brides for many years to come.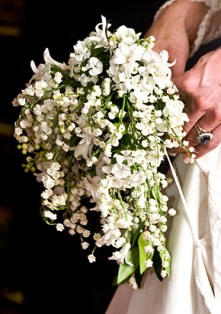 And the theme – the Britishness – I am sure this will have influence on many wedding planners and their clients with plenty asking for coronation anthems and English flowers. Kate bouquet was rather a modest posy I thought, understated but full of meaning of course, containing Sweet William, Lily of The Valley and the traditional royal sprig of myrtle. I predict this smaller arrangement will be continue to be fashionable, there is even a course taking place this month held by florist Judith Blacklock that will show you how to recreate Kate's bouquet if you'd like the same for yourself!
We already know that sales of sapphire rings and midnight blue dresses have gone through the roof and Kate's wedding style will no doubt really take off too ! Our new Duchess is a trend-setter indeed…
Vote for your favourite wedding moments in our awards here: http://awards.uk.msn​.com/royal-wedding
Alice Wright

Alice has written for MSN for a couple of years focusing on TV and celebrity stories, as well as managing the MSN Reality TV Twitter account.