Last minute plans for the big day.
I'm just making plans for Friday. A list of ideas for what you can get up to on the 29th.
Well we know what Kate and William are doing on Friday, and I know that I will be working, but what about you? What are your plans? If you are not going to one of the 5,500 planned street parties then you must have something up your sleeve? If you are still at a loss but want to do something to mark the occasion then I have had a scout around for fun, suitable ideas and places where you can raise a glass of bubbly, win a prize or watch the action live with like-minded folks.
This includes a round up of what the major London hotels are offering so if you are coming to the capital on Friday then print this off so you have a handy guide to places welcoming royal wedding revellers if you find all the standing up a bit much…
Of course this is only scratching the surface so please let us know about any other local events by leaving a comment below.
PLYMOUTH: The town centre Piazza is being transformed into a massive street party showing the wedding live on a huge screen. Plenty to entertain the kids and come dressed up if you can…
POOLE: The Sandbanks and Harbour Heights Hotels are showing the wedding live and have a host of activities including paparazzi photoshoots, kids entertainment and champagne cream teas!
LONDON SW1: The first couple to enter The Cadogan Arms on the Kings Road and The Botanist on Sloane Square named William and Kate will be given a complimentary three course meal.
LONDON SE1: The first 100 couples to visit the world famous London Dungeon will be presented with a miniature ball & chain. 'Bound' to become a collector's item? Plus there'll be torture demos of what happened to nagging wives…
SOUTH SHIELDS: South Marine Park has erected a huge screen for live viewing, make sure you bring a picnic.
PETERBOROUGH: Hoping to recreate the atmosphere inside the Abbey, Peterborough's cathedral will be showing the wedding on the big screen and Pizza Express in Cathedral Square will be offering free dough balls to anyone dressed up in wedding regalia.
EDINBURGH: The Michelin-starred Plumed Horse restaurant is hosting a royal wedding breakfast and The Balmoral Hotel (one of the Queen Mother's favourites) and The Sheraton Grand are both offering royal wedding afternoon tea.
EDINBURGH: The Knight Residence are offering a stay that donates the royal couples charitable fund – includes a Rabbies tour of St Andrews and bus ride around the royal sites.
WILTSHIRE: The Bowood Hotel in Calne is hosting a royal wedding brunch on Friday includes live footage from the abbey and champagne.
WEST BROMWICH: The Public arts centre is showing the wedding live, as well as having a bouncy castle, street party and beer festival. 
BIRMINGHAM: The Bullring shopping centre will be open but head to the customer services desk on Middle West Mall to sign a book of goodwill messages that will be presented to the royal couple after the wedding.
CARDIFF: The Victoria Pub in Canton are holding an all day street party with entertainers as is the All Nations Church, alongside a hog roast! Or for residents wishing to get away from the hype a trip to Oakwood Park in West Wales has been organised.
CHESTER: The Chester Grosvenor & Spa Hotel are offering a luxury package including use of the Prince William Suite, royal wedding afternoon tea and free entry to their local 2,000 year old cathedral that has hosted its own royal weddings in the past.
LONDON CLAPHAM: The royal wedding swap shop at The Avalon and The Abbeville pubs in Clapham.  Just take in an old mug, plate or glass in exchange for free food and drink!
LONDON BATTERSEA: The popular Chez Manny restaurant in SW11 is expecting over 10,000 people to a street party. Showing wedding coverage and hosting live music and kids entertainment it promises to be a good one! BBC London will also be broadcasting live from here. 
STAFFORDSHIRE: Drayton Manor Theme Park are offering free entry to anyone called William and Kate on Friday.
MANCHESTER:  Spinningfields in the city centre are showing the action live from the Abbey on a huge screen on Hardman Square. Picnics, Pimms and party hats on sale.
ISLE OF WIGHT: Local attraction Osborne House in East Cowes (once inhabited by Queen Victoria) is a seaside royal palace where the myrtle tree that provides a sprig for every royal bouquet still grows today. Great place to spend the wedding day.
LONDON TRAFALGAR SQUARE: The National Portrait gallery are hosting a 'royal relationships in the arts' talk and the National Gallery are doing a creative session for you to immortalise your loved one in a commemorative box.
LONDON CITY: The Bavarian Beerhouses in EC1 and EC3 are hosting a Kate & Wills Lookalike Contest. Every guest who dresses like bride and groom will receive a free fig vodka shot.
LONDON LEICESTER SQUARE: The Vue Cinema are showing the wedding live on their largest screen and entry is free!
LONDON MARYLEBONE: 108 Marylebone Lane Restaurant and Bar are showing the wedding live in their lounge and hosting a champagne English cream tea. Or order a glass of champagne this weekend at Café Luc and you're in with a chance of winning a Piaget watch worth £9k!
LONDON MAYFAIR: Michelin-starred Japanese restaurant Umu have created a traditional wedding banquet based on the Kaiseki culinary artform using ingredients sourced from Scotland and Wales. Includes Sake for toasting.  Also in Mayfair the Elemis Day Spa is offering 'The Royal Treatment', duck in if you want to duck out of the celebrations.
LONDON KNIGHTSBRIDGE: Langtry's - This historical restaurant is offering a replica of the Queen Mother's wedding breakfast  in celebration.
LONDON WEST END: If you're trying to get around the shops in the capital you'll see that retail workers in BHS, Hamleys, House of Fraser and John Lewis are all wearing hats. 20,000 are still working on Friday and so they don't miss out they'll be donning the hats to raise cash for Beatbullying. The House of Fraser are also showing the wedding live for shoppers!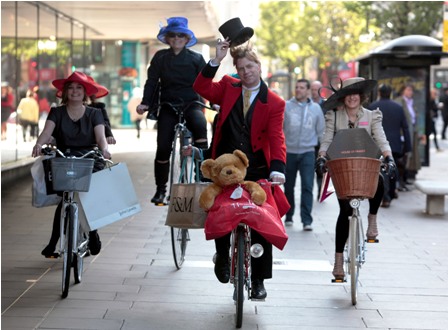 CENTRAL HOTELS NEAR TO THE WEDDING ROUTE:
LONDON BUCKINGHAM PALACE: The Rubens Hotel is literally opposite the big house which means you're in the right place for the fly past! They're offering celebratory dinners and credit to spend in the palace shop if you stay over.
LONDON OXFORD CIRCUS: The Langham Hotel (opened by 1865 by the then Prince of Wales!) is holding celebratory afternoon 'Tea Royale'
LONDON PICADILLY CIRCUS: The Park Lane Hotel are offering 'Sovereign Afternoon Tea' with a free commemorative china cup and saucer to take home!
LONDON KENSINGTON: The Kensington Hotel are offering an overnight royal wedding package that includes tickets to Kensington Gardens, souvenir edition of Hello! Magazine and royal wedding breakfast
LONDON KENSINGTON: The Roof Gardens have a late party on Friday night including fireworks being set off to 'The Land of Hope and Glory'. Not a dry eye in the house…
LONDON PARK LANE: Grosvenor House have an incredible package which includes pick ups in a chauffeur driven Bentley or Rolls, commemorative gifts, a horse-driven carriage ride in Hyde Park and champagne and wedding cake!
LONDON MAYFAIR: The cool May Fair Hotel has gone a step further offering a proposal package complete with butler and real sapphire ring!
LONDON VICTORIA: The Park Plaza hotel has a set of new wedding themed cocktails: Something Old, Something New, Something Borrowed, Something Blue.
LONDON BELGRAVIA: The Jumeirah Lowndes Hotel have a new 'Best of British' menu and is newly decked out in red, white and blue.
And as now is a great time to be called William, Kate or be getting married here are a few more last minute ideas you might want to take advantage of. Well I would if I were you, things like this don't happen very often!
The AA are ensuring you will get to the church on time if you're also getting married on Friday.
Insurance company insurefor.com are offering 25% discount on travel insurance for all British Williams and Kates in May.
If your name is Kate or are getting to married to someone called William, then Hen Heaven will send you on a hen weekend for free.
National hotel chain Travelodge is offering British couples called William and Kate a free honeymoon package - during the royal wedding weekend at any of its 450 hotels includes fish & chip supper and a bottle of bubbly.
If you are just going to be sitting at home with family and friends why not play our royal wedding bingo!
And as you get your preparations ready have a look at London getting ready for the big day in our fab gallery.
For all of the rest of today's royal wedding news, have a look here: 
And for more on how the West End in London is celebrating and where you can take part have a look here:
Whatever you are doing have fun, be safe, keep an eye out for others, plan your day wisely and let us know how you get on!
Alice Wright

Alice has written for MSN for a couple of years focusing on TV and celebrity stories, as well as managing the MSN Reality TV Twitter account.